Paul G. Heller - Playwright
Wolves
A full-length hour-long play for one actor (with a small part for a boy).  Peter's father yells at him for not being able to shoot a bow; his mother blames dwarves for setting fire to her hair.  Six year old Peter retreats into a world based on fairytale logic.  As an adult, he marries Alice, woman who demands he set aside these fantasies.  They have a wonderful ten years together.  Peter thrives.  But when Alice is struck by a car and is hovering between live and death, Peter's fantasies stream back.  Only by reframing the moment when his father showed him how to shoot a bow can he face what lies ahead as an adult.
  To view an excerpt of the script, please click on the image below.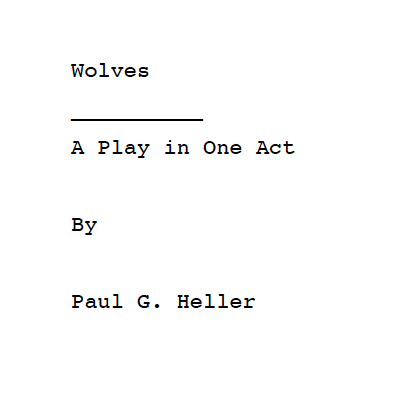 Video Credit:
Note: Additional video credits coming soon.
Director, Rem Myers
Actors: Wiley Naman Strasser/Campbell Zeigler
July 7-August 22, 2015 Living Rooms, Theatres and Convalescent Homes in Berkeley & San Francisco, CA